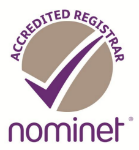 Nominet Accredited Registrar
Paragon Names is pleased to announce that we are now one of the first registrars to become an Accredited Channel Partner with the top tier of classification with Nominet, the .UK registry.

We first became a Nominet member and registrar in 2003, in the last decade we have seen many changes in the domain name industry and directly in the .UK market.

Since 2003, we've seen rapid growth and excellent retention making us the 17th largest .UK Registrar1 and one of the fastest growing now managing over 80,000 .UK domains.
ollowing the new registrar agreement2 which came into effect on 18th March 2014, different tag classifications (Self-Managed, Channel Partner and Accredited Channel Partner) were introduced enabling nominet registrars to choose the most appropriate classification for their use.

The accredited channel partner status means that as a registrar we have demonstrated high standards of data quality and service commitment to our customers.

We are also required to follow strict criteria as a business to ensure we have in place the proper processes and assurances so that customers can know they are in safe hands when using our domain registration and other services.

As an accredited channel partner we're now able to perform domain registrant ownership changes for free, previously these needed to be done directly with Nominet and carried a £10+VAT fee.